16 December 2021
Vlada Sadova
Winner of the module "IT: elearning"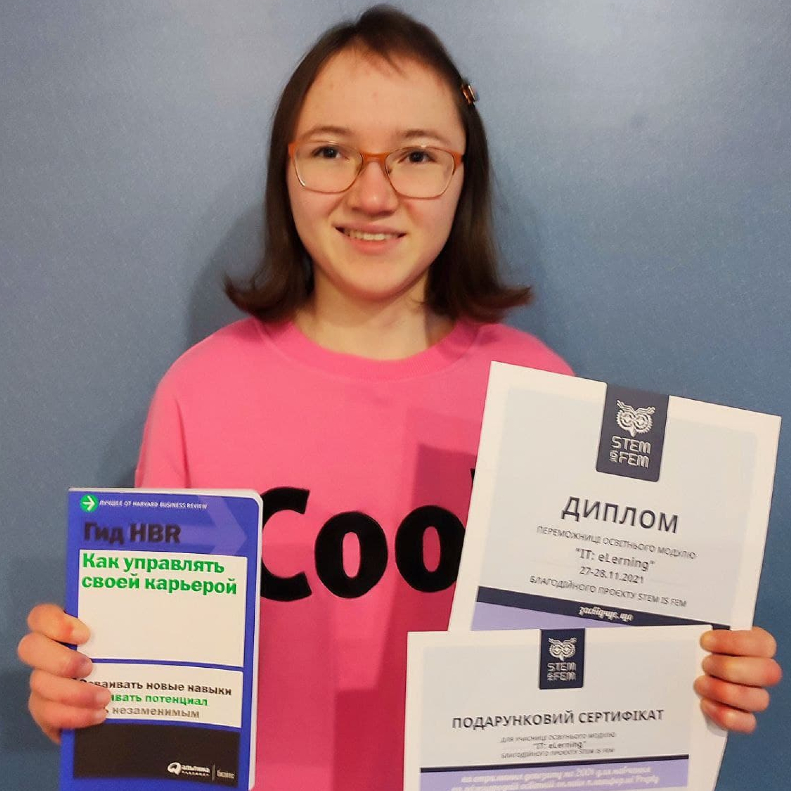 I am most interested in chemistry, because I believe that it is the most exciting, fascinating and important science of all, so in my spare time I solve problems in chemistry, conduct spectacular chemical experiments at home and participate in various chemical events - competitions, Olympiads and educational programs, and now I am taking chemistry courses on the online platform "Coursera", a certificate for which I received as a gift in the module "Metallurgy" of the project "STEM is FEM" (that's when I learned about this initiative).
The idea for the competition task of the "eLearning" module came to my mind when I accidentally looked at the Periodic Table of the Elements, which lay on my desk. In addition, I am studying 3 foreign languages ​​- English, German and French, and I plan to study German with a native speaker on the "Preply" platform thanks to a gift certificate.
I decided to try my hand at the eLearning module to discover a new and unknown field of technology and better understand it. The module gave me unforgettable impressions, positive emotions and an extremely useful experience!
In my opinion, digital technologies are extremely important for our daily lives and the future, especially in the field of education, so I am happy that this weekend with "STEM is FEM" I had the opportunity to learn so much about digital learning and practical invention skills, creation, prototyping and presentation of own educational application. Some of these skills have already been useful to me in my computer science lessons, and all the others will definitely be very useful in the future. So the 2 days of the "eLearning" module flashed for me in a flash, super-informative and joyful, leaving wonderful memories and pleasant gifts to remember!