14 September 2020
Marharyta Ivanenko
Winner of Mechanical Engineering module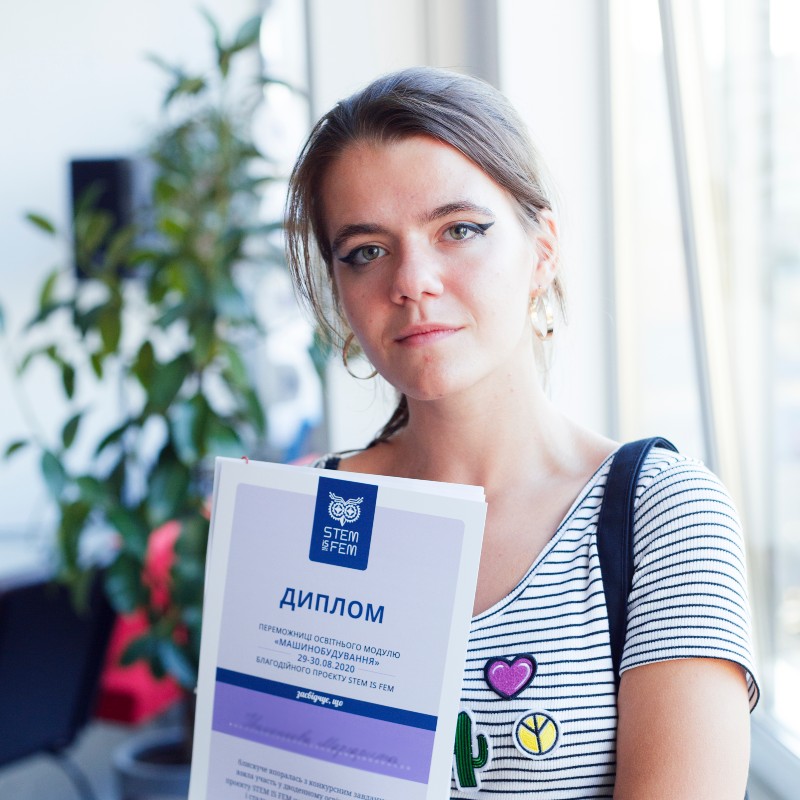 Hi! My name is Marharyta, I live in Zaporizhia.
I am an ordinary high school student who keeps on looking for my place in the world, hobbies and future. The pressure on teenagers is strong enough to get confused. Therefore, apart from studying at school, I decided to get myself together and start self-improving. At the same time, I am studying graphic design as I am extremely excited about it, but I will never give up the opportunity to learn something new, even though I have never though of it before.
I love to chat and meet new people, learn from their experiences, listen to their stories, interests and achievements. It is at Stem is Fem that you not only listen to the speakers, but also chat with them as if they were your friends and you just decided to talk to them.
Moreover, also the participants become interesting companions. Just imagine that you gеt off the train together, but you are already close friends as you will spend two wonderful days together having a chat during a tea break and talking about this and that. And it feels like you knew each other for ages, as if you hadn't met a few minutes ago, as if you hadn't tried desperately to remember the names of all the girls.
And I love this project for these feelings.
Excitement, interest, enthusiasm, strength...
Emotions, memories, experiences...