14 September 2020
Viktoriia Konashchuk
Winner of 3D Modelling and Printing module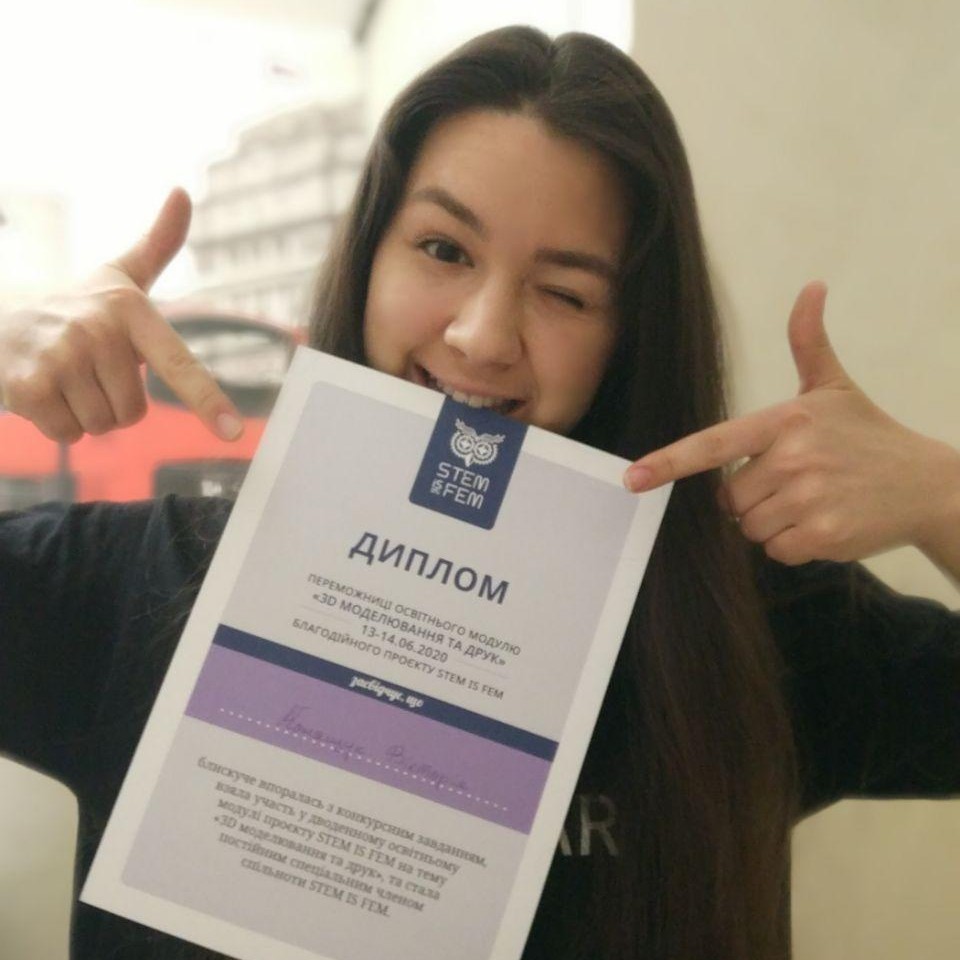 Girls, hi everyone (here is a boys-free zone, right?)
And the first fact about me: I do not like complicating things, so let me put aside oficial tone with you, is it okay? This is not a pitch in front of an investor;)
I am Konashchuk Victoriia, an entrepreneur, an 11th grader (although already a graduate), a finalist and winner of several IT and startup competitions, a genius, WHILE NOT a billionaire, a playboy, a philanthropist and I have recently watched "Iron Man" :)
I have participated in various projects since the 8th grade, but I consider my greatest (so far) achievement launching the project ITbabushka, a platform for teaching the elderly to use smartphones from scratch (yes, yes, you no longer have to spend your time and get nervous trying to explain what should your grandma do when there is "something terrible got out of the phone").
I am also a designer, or rather a 3D designer, at an interesting and useful startup Nutis. Have a look and subscribe to in on FB and Instagram, we will surprise you!
So, in order to increase my competencies and dreaming of my own 3D printer, I decided to join this module STEM is FEM. Although I know some basics of modeling, I learned it by myself, but getting information from professionals is always beneficial. And my choice wasn't wrong! I learned a lot of details that I probably wouldn't have come to on my own.
I also mastered a new 3D modeling program;)
I am very glad that participation wan't easy (because if it is easy, we are not progressing), and the victory went to the best project - it means there is something to strive for)
I don't know what I will do in the future, but I am sure that my activity will be related to IT. It is obvious that many consider IT as embodiment of the future! As for me, I am most fascinated by the progress from the moment when we first consider an idea to be fantastic, beyond reality, and then, its embodiment turns out to be something extraordinary. "Wow, this is brilliant, show me the person who made it!" And starting to study this area, you recognize that EVERYTHING IS POSSIBLE. And you immerse into this "unreal future", you want to be a part of this fantastic progress.
So, I added to my treasure-box the basics of web design and programming, 3D modeling, augmented reality, graphic design, and project management.
I often take part in IT competitions, pitches and startup battles, because it is not only an experience but also not banned dopamine, endorphins and adrenaline))
Maybe, it is some kind of "drug" which requires me never stopping after achieving results.
So, this year, after a 3-year journey to victory, we as the renewed ITbabushka team have finally taken first place! Yuhoo!!! Now, we have an internship in an American startup and a trip to Amsterdam!
And I didn't mention that I love English, as well as reading books and speaking in public.
So, my ideal temptation is a book on public speaking in English)
It's almost short, I won't take you any longer, and I'm running to my next webinar!
I hope I've motivated you at least a little bit. Not a minute to be wasted anymore, just do it!