26 October 2020
Julia Dvorakovska
Chief executive officer at CBM FORUM, a Ukrainian engineering company. Industry speaker at the Architecture and Construction module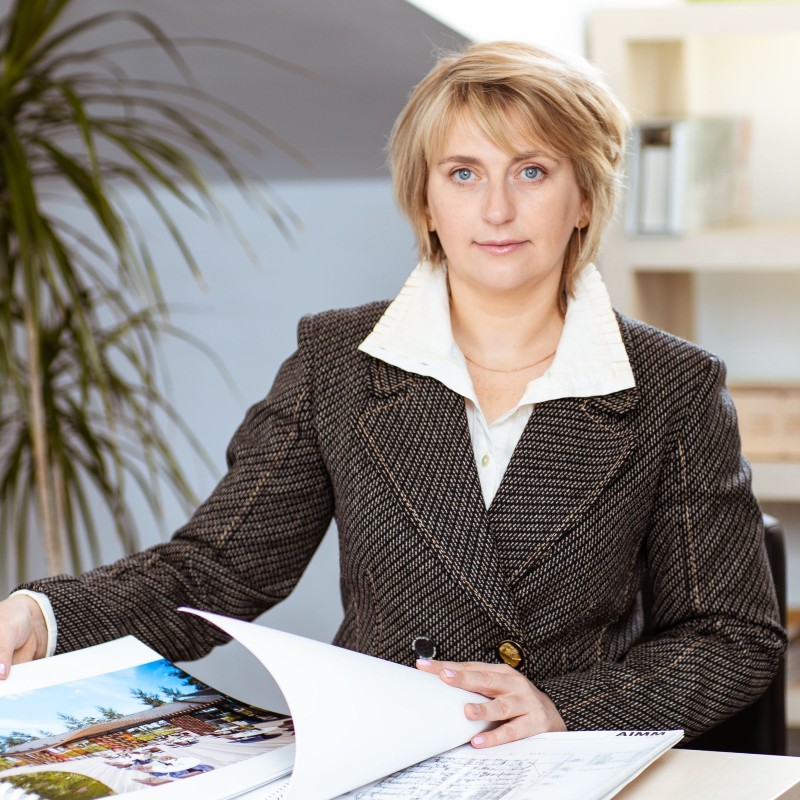 Julia Dvorakovska graduated from the Igor Sikorsky Kyiv Polytechnic Institute and the National University of Kyiv-Mohyla Academy (the second year after the opening). She was going to become a biotechnologist and ecologist.
During her studies, she worked as an English tutor and then got a job in a large trading company as a logistics manager, a job that required English speaking skills. The company traded in building materials, such as architectural aluminum systems for the production of windows, domes, conservatories, and transparent facades.
Whilst working in the logistics department, Julia got acquainted with all the major construction companies in Ukraine and participated indirectly in the implementation of a number of large projects in Ukraine at the time. It was in 1998-2001, the heyday of the construction industry, and projects were incredible at that time. It was when Julia fell in love with construction projects forever.
After graduating from the institute, Julia never worked in her specialty. Instead, being an experienced logistician, she was invited to work at a large construction company. First, she arranged their facilities with imported materials and then decided to start selling their services. Julia wanted to work in construction and implement construction projects so much that she managed to sell the company's glazing services of the first Epicenter store in Kyiv, as well as for the glazing of Diamant Bank branches, then for a huge country complex, etc.
As a result, Julia Dvorakivska headed an enclosing glass structures department in the company. For the new department, there was purchased a new set of equipment for the structure manufacturing and new personnel was hired as well. The department won one tender after another. 'My friends always asked: "How do you sell aluminum structures? You do not understand the technical part of the systems." I answered that my clients in 99.99% of cases do not understand the technical part either, so they understand me perfectly. For the technical part, I had excellent specialists in the staff,' says Julia.
Once Julia's department won a very large and complex tender for the glazing of the multifunctional complex Europe Plaza near Saksaganskogo str. and Shevchenko blvd. in Kyiv. It was WOG's project with TMM as the general contractor. After working on that project, Julia was invited to work in WOG's Project Implementation Department in Kyiv. There, she learned project management in construction supporting her skills with studying in Professor Bushuyev school. Now, Julia is a project manager with an international certificate.
After WOG, Julia headed the design and construction department at NEST development holding for ten years, participated as an expert in international projects, and collaborated with the largest developers at that time. Among the projects implemented under her management of that period, there are:
- multifunctional residential complex "Pory Roku", 137,000 sq.m.;
- multifunctional residential complex "Izumrudyi" 108 sq.m.
- multifunctional residential complex "Pokrovskyi Posad" premium class 125,000 sq.m.
In 2015, Julia's team left NEST Holding and started working as a CBM FORUM, an independent engineering company in the Ukrainian market with Julia as the managing partner of this company. Julia's company is mainly working on reconstruction. They started during the active development of private medicine in Ukraine. In five years, there were five projects on private clinics implemented under their management, and there were also many more medical projects where they provided consulting and engineering services. The company is rightly considered an expert in the market of construction of private medical institutions.
Also, among the landmarks, there are cottage town GOODLIFE PARK, SHELEST, restoration of the house of Merchant Novikov on Podol, and others.
Julia is married and has an adult son.
Julia believes that one should constantly improve and gain new knowledge and skills. That's why she has a lot of diplomas, including both professional ones and diplomas in related skills: public speaking courses, improvisational theater school courses, courses on flexible management, etc.