18 June 2020
Gender Equality, the Future of Technology, 3D Implementation and Opportunities to Changing the World: The Module "3D Modelling and Printing" Invites Discussion
The module was dedicated to 3D modeling and printing. Ninety girls took part in the competition, and after testing on the website, there were selected 30 girls of thirteen Ukrainian cities.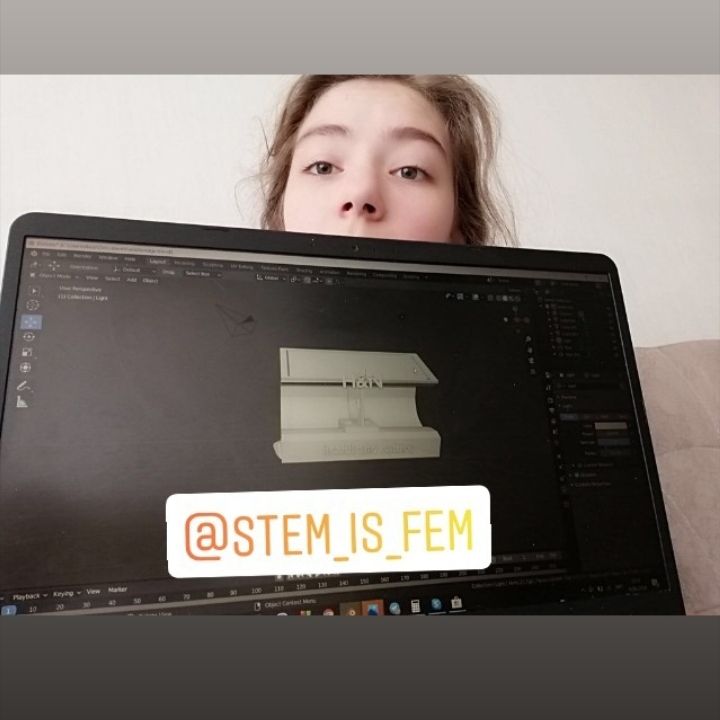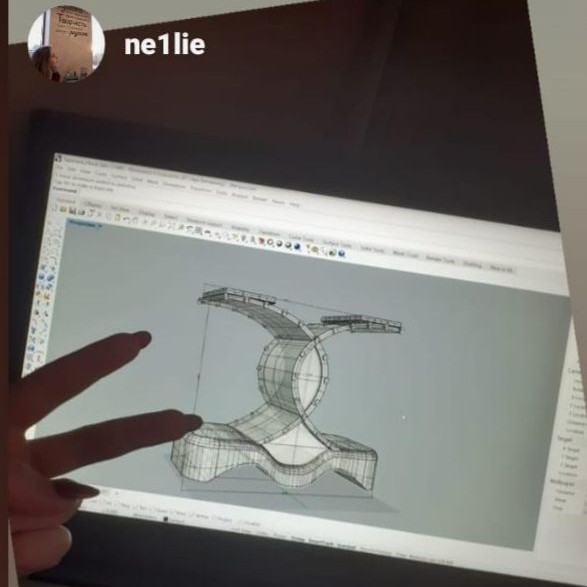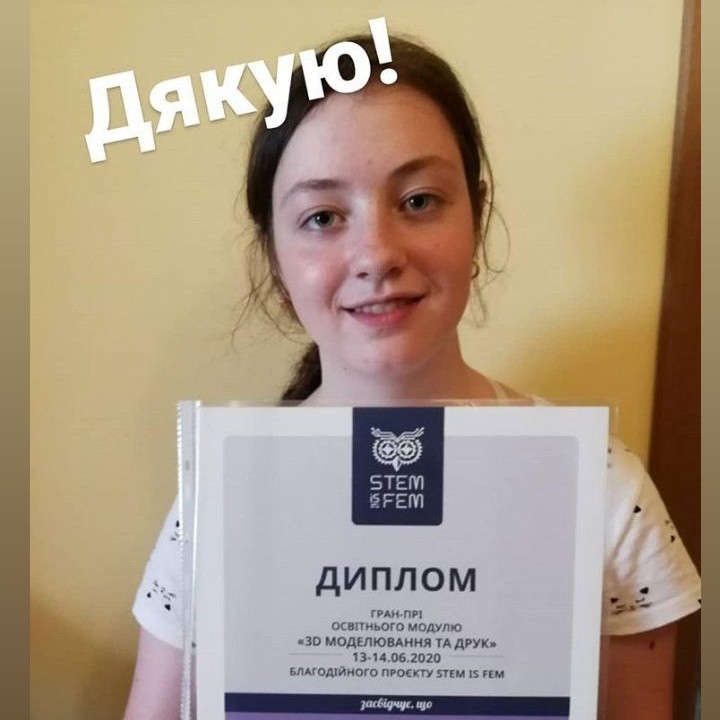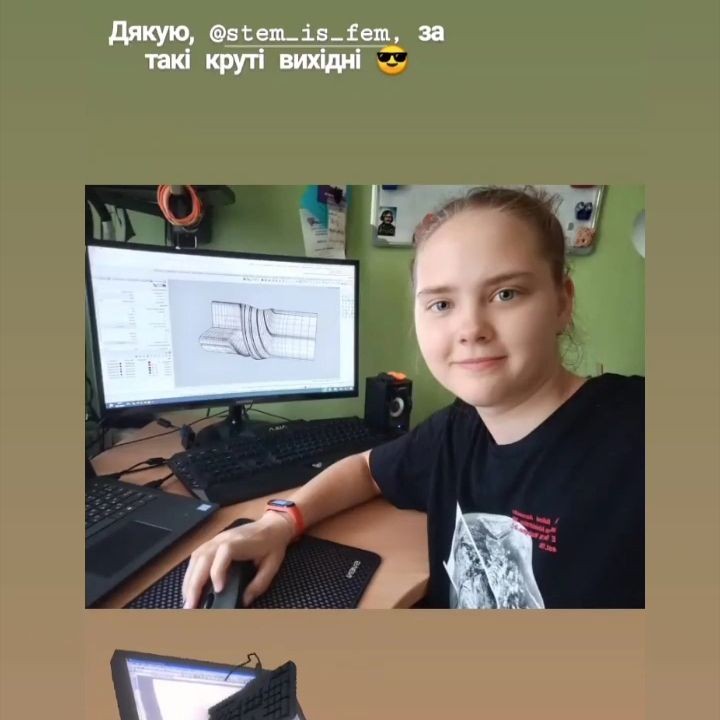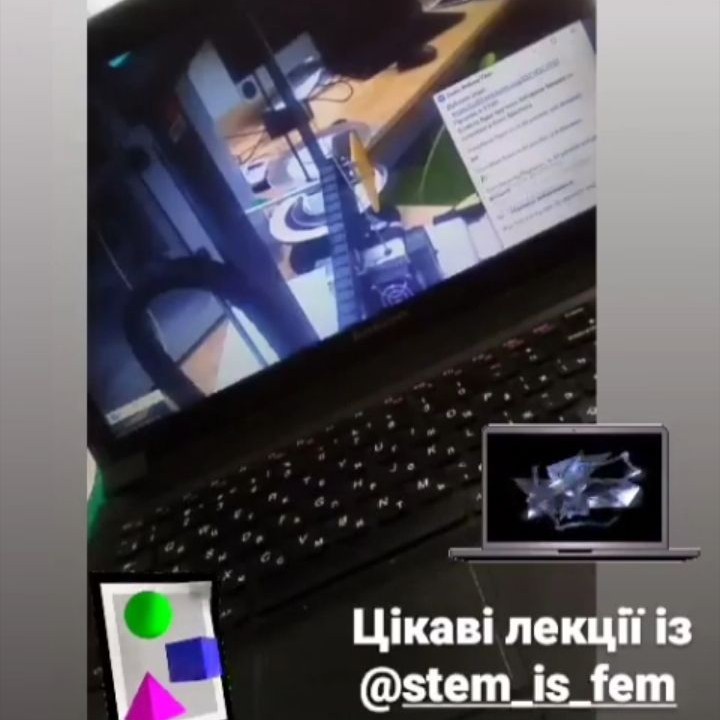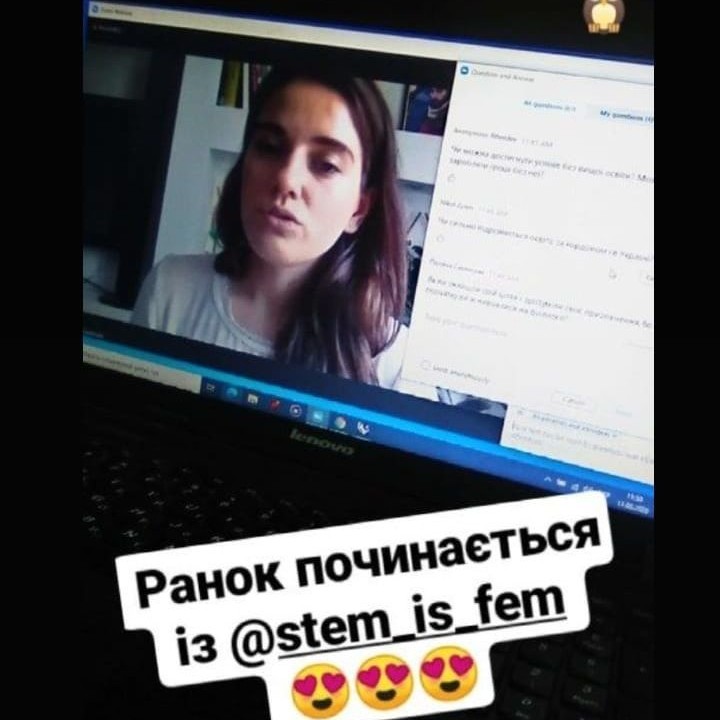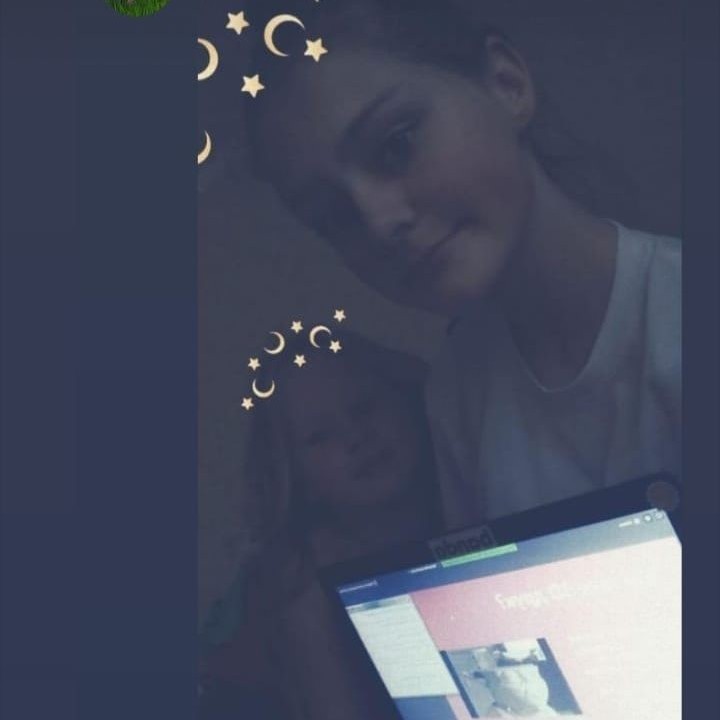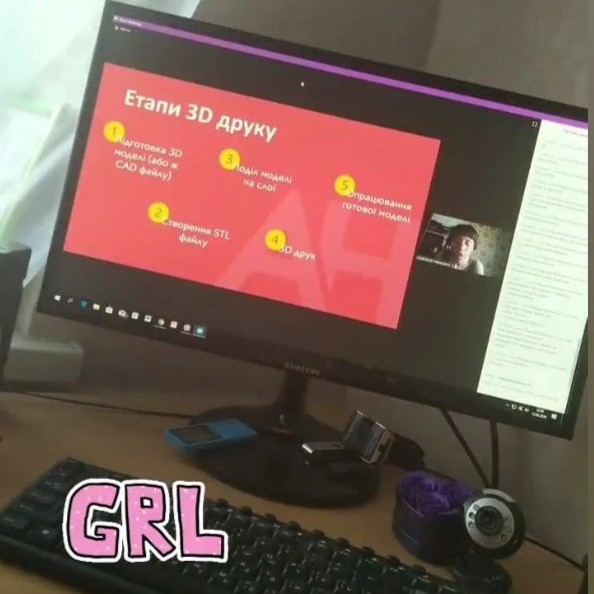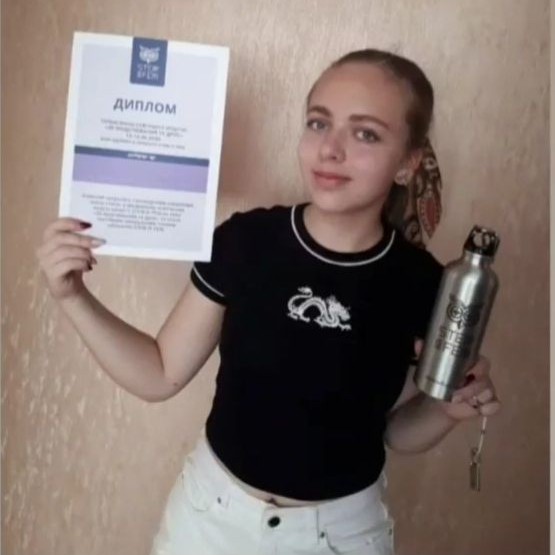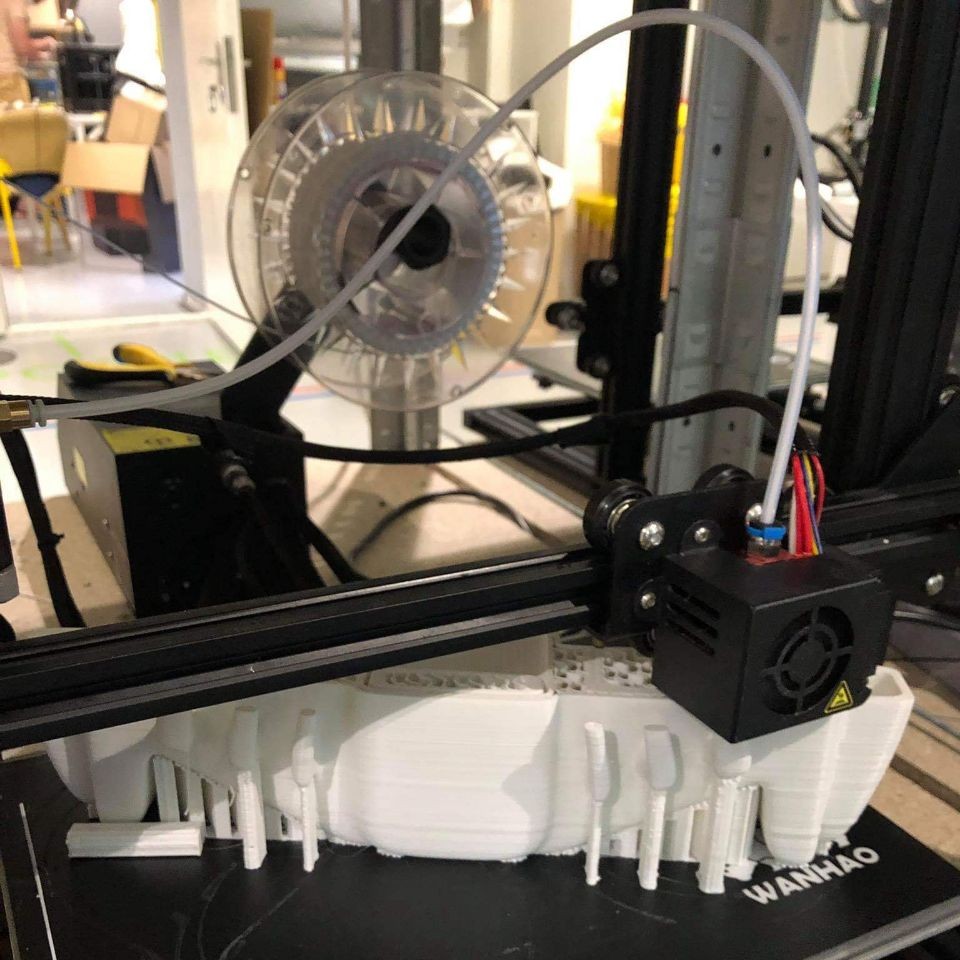 During the fifth module of STEM is FEM, 30 school girls from all around Ukraine were talking about gender equality, the future of technology, the wide prospects of 3D implementation, and opportunities to changing the world.
The module was dedicated to 3D Modelling and Printing. There were 90 girls who took part in the contest. After testing them on the website, there were selected 30 girls from 13 Ukrainian cities: Zaporizhia, Dnipro, Kyiv, Sumy, Ivano-Frankivsk, Kryvyi Rih, Mariupol, Sievierodonetsk, Yuzhnoukrainsk, Ukrayinka, Ohurtsivka, Pervomaisk, Lozova, and Dolynsk. This is already the second time the project venue has been held online due to the quarantine restrictions.
The motivational part of the module was represented by women who have succeeded in their careers and can share their experiences. Head of Office ad interim of the UN Women Country Office in Ukraine Dominika Stojanoska spoke about gender inequality:
'We've got to do plenty of things to reach full gender equality. And even though laws that level the opportunities are being adopted all around the world, women are still underrepresented. There are 16% women represented in governments and parliaments worldwide. There are 63% women represented in the global labor market, with men being represented at 90%. Women are still paid less than men. The global wage gap is more than 20%. The situation in Ukraine is almost the same. The recent years saw a major improvement in Ukraine, but women`s representation in the parliament is still within 20% and only 58% participate in the labor market, with the wage gap reaching 23%. Today, we are moving toward a digital world. We're moving forward at differing speeds, but digitization approaches anyway. The problem we face is gender equality whenever it comes to solving such issues. Less than 30% of scholars are female. And they are still paid less. The situation in developed countries is better, but not significantly better. Even in the developed countries, the technology field is witnessing only 17% of women represented. In the EU technology sector, women get paying 19% less than men for equal work. In Ukraine, women are three times less engaged in engineering. But it's crucial to involve women to take part in changes in the world today.'
Head of Political Section at British Embassy Kyiv Kate Davenport talked about women`s place in big politics:
'The community STEM is FEM that you have now is brilliant. Since you can share experience, discuss problems and, who knows, maybe in the future you will cooperate on professional issues, launch projects together, and build the next generation of Ukrainian scientists. We can get so many benefits from building such communities. The thing I love about my career is meeting other strong women in the diplomatic service. For instance, in Brussels, there were six of us in a group of 30 persons. And we used to meet every week, discuss the work and work out a common strategy. It was a wonderful experience and great support!'
Social Reform Coordinator of the Reform Support Team at Ministry of Finance of Ukraine Kateryna Bondar told girls about changes in the world and in the country:
 

'Don`t limit yourselves. It is widely believed, that in order to succeed in big companies, you have to hold, for instance, MBA. But such companies as Google, Apple, Facebook are, in the opposite, looking for people without these degrees. If you have an MBA, you a priori not do not fit them as you already have a certain way of thinking. They are looking for creative people who can think out of the box, those who would help them leave their competitors behind. They fight for the market, talented people. People are the most valuable thing. That`s why you should be yourself, develop your strengths. Reveal your advantages, think about what you do best and do it.'
And former Chief of Odessa Customs Yulia Marushevska told about her experience of getting an education in the most prestigious universities of the world:
 

'Foreign universities are looking for people who not only good at studying but who can provide them with extra value. Extra value is your unique ideas, your life story, who you are, what you are striving to. Apart from that, you have to learn the subjects you are studying, it`s also critical to develop your story as a person, as a citizen of your country, as a world citizen. It means to be interested in the processes unfolding around you. This is what shapes you and makes you an interesting and exceptional personality.'
Program assistant at the American House in Kyiv Anastasiia Makridina and Fabricator Fablab designer Olga Synyakevych held lectures and workshops for the girls and introduced them to the basics of 3D modelling and printing. The lectures helped the participants to get an insight into the process of creating a 3D model from an idea to the processing of a printed model.
The girls have also talked to women that are experienced in the practical use of 3D technology. Editor-in-chief BURO Ukraine Tetyana Solovey told girls about how 3D technology is turning from a plaything into a defining element:
 

'If thanks to 3D everyone could become a designer, how would change the appearance of people? After all, customization is already affordable. I believe, later we all will be able to get things designed by ourselves. Moreover, if the technology goes even further, we will be able to afford an in-house printer that will print clothes designed by us. And I wonder, what will happen to the industry that has always been based on an iconic designer who creates great things? How will it change the world? Will it make us look more extravagant, weirder? How will the perception of good and bad taste change?'
Researcher at the Institute of Superhard Materials in NAS Tetiana Panasiuk revealed to the girls some tricks on how to create artificial diamonds with help of 3D modelling. And Fablab Fabricator operational director Maryna Chernysh spoke about the variety of projects developed using 3D printing around the world and in Ukraine:
'Every summer we hold incubation programs for high school and university students, and in a short period, 2-3 months, they launch their own start-ups or realize their ideas. For example, Mykyta has designed a hammock coupled with a smartphone. Visiting his summer house, he had always had a problem feeling too lazy to push from a tree. So, he created a hammock equipped with a sensor and motor to set the amplitude and rocking speed so the hammock can work autonomously. And these are a boy and a girl from "Fedia and Tania team", they worked out a machine-learning mirror. At first, you go to the mirror and it takes a picture of you. Then it sorts the picture by its algorithm. And next day, when you approach the mirror, you can see the weather forecast for today, the time and plans from your calendar. And according to the weather and your Google-calendar notes, it picks up the most relevant and handy looks from your clothes that would fit the occasion and the weather. It can be found in open sources, they have uploaded their development on the Internet. So you are welcome to go and arrange a similar mirror at home.'
Due to the quarantine restrictions, the module was held online. However, it didn't affect a busy educational and motivational program for the girls.